Every SEO strategy can be broken into two basic types of optimization factors: on-page and off-page. On-page SEO focuses on techniques for optimizing a site's content and HTML code to make it search engine compatible, while off-page optimization relates to external factors like link building. At Moonraker Marketing, our client SEO campaigns start by tweaking a site's on-page factors before focusing any efforts on off-page factors. Whether you are in the process of building a new site for your business, or you're simply ready to make improvements to your existing site, here are some tips for nailing your site's on-page SEO: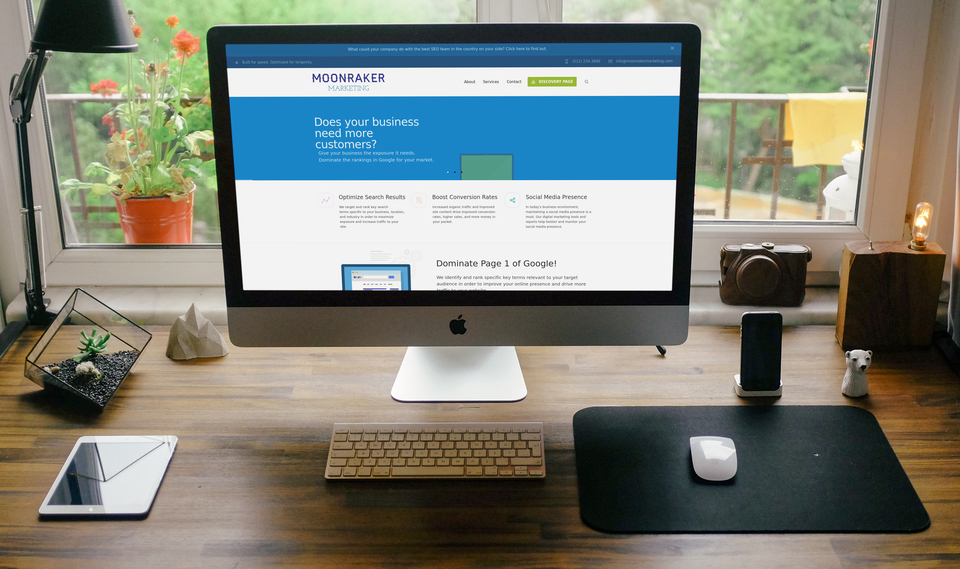 1. Know Your Keywords
One of the first things we like to discuss with any client are keywords related to their niche and location. The goal of an SEO campaign is to help a client rank for keywords that will drive relevant, organic traffic to a site. What are people looking for your product or service Googling? For example, if you own a hair salon in Austin, people in need of your services would likely search for "Austin hair salons" or "hair salons in Austin tx", or longer tail keywords like "best hair salon Austin" or "top hairdressing salons Austin". Start your list of keywords by brainstorming, thinking of synonyms, and adding location modifiers. It's also helpful to use keyword tools like those offered by Ahrefs, SEMRush, or WordStream. Knowing your keywords will help you with executing the rest of your on-page.
2. Optimize Your URL Structure
URL structure is an important on-page element from both a search engine and user standpoint. Most importantly, your site's URLs should be readable and concise, incorporating keywords while avoiding complexity. Studies have shown that shorter, less complex URL strings typically rank higher in search results. It usually makes sense for the URL to match the title of a page, using hyphens or underscores to separate words.
For example, here are examples of a three different URLS:
The first URL is concise and gives the reader (and search engine) a great idea of what the article is about. The second URL includes some of the keywords, but entangles these keywords in a lot of useless symbols, plus uses additional layers of folders that are unnecessary. Those ugly "%20" symbols dropped between all the words is what happens when you use spaces rather than hyphens. The third URL gives the user no insight into what the page is about. Would you want to click on a link like this? Probably not, and neither would a user.
3. Think Through Site Structure
A local business site should start with a few basic pages:
An "About Us" page, describing who you are and what you do
A "Locations" page, with details about your location(s) and what areas you serve
A "Services" page, that gives the user an idea of what services you provide
A "Contact" page, that gives the user the means for contacting you
Remember to keep the URL structure for all these pages simple.
4. Use Title Tags to Your Advantage
The title of a page or post is one of the most important ranking factors. When browsing through a search engine results page (SERP), the title of a web page is the first thing a user sees and is displayed shown in blue as a clickable link. Titles are also displayed in browser tabs and in social media posts. Not only is a title important for the user to understand what a page is about, it's also critical for search engines to identify and classify a page in the appropriate search results.
For optimization, keep your titles between 50-60 characters and use your most important keywords towards the front of the title, with your brand towards the end. While you want to use keywords, be careful not to "keyword stuff", (i.e. using 1-2 important relevant keywords in a title is ideal, using 3-4 is overdoing it). Each page of your site should have a unique title, with the top keywords sprinkled throughout. Back to our hair salon example, a well-structured title tag might be:
Best Hair Salon Austin TX | Snappy Scissors Hairdressers
In HTML, the title will appear in the header between title tags:
<title>Your Page's Title Here</title>
If you're using a platform like WordPress, this HTML is created for you when you add the title to a page or post.
5. Sell the User with Your Meta Descriptions
A meta description is the 150 to 160-character snippet displayed under a title tag in SERPS, which briefly summarizes the contents of your post or page. While not directly linked to your SEO rankings, meta descriptions are important for their click-through value. This snippet should offer such a compelling summary of a page's content that the reader chooses to click on the link to your site. Again, as with title tags, make your meta descriptions unique. Here's an example of a meta description:
"Snappy Scissors Hairdressers is Austin's premier hair salon offering a variety of services for men and women. See why we were voted Austin's best hair salon!"
6. Write Compelling, Keyword-Rich Content
It's important that your site gives both users and search engines a good idea of the services you provide. When crafting your site's content, keep that list of keywords in mind. Sprinkling a mix primary and LSI keywords throughout the content will ensure that search engines can identify the purpose of your site. As we've mentioned before, be careful not to keyword stuff! It's important that keywords are naturally worked into content in a contextually relevant manner.
After the initial build-out of your site, adding a blog is a great way to add additional niche and location relevant content. You can use your blog to showcase your portfolio of completed projects or offer readers advice related to your area of expertise. A well-written blog is a great way to reduce user bounce rate and increase time on the site, two important optimization factors.
7. Make Sure It's Mobile-Friendly
More than half of all users now start their search on a mobile device, which is why Google recently started cracking down on sites that are not mobile-friendly. Responsive web design is an important element to ensure that users have a great experience on your site no matter what size phone, tablet, or computer screen they are using.